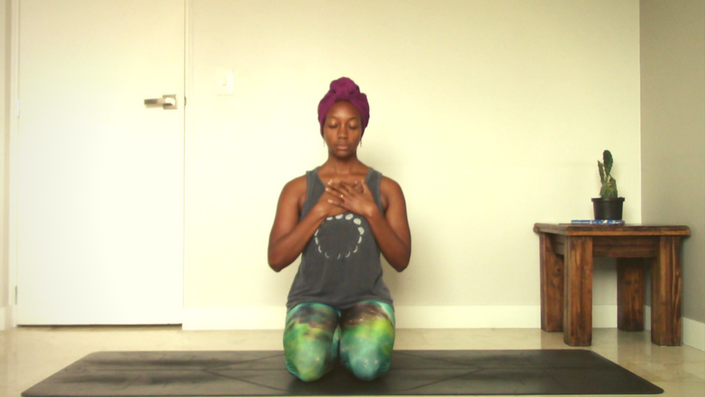 Full Moon Yoga Flow (15 min)
A flow to help you feel more grounded
Join Carla in a 15-minute yoga class with longer holds and deep breathing that will allow you to feel more grounded.
During a full moon, it is stated we will feel energetic and emotional, but not well grounded. In addition, we are likely to be more headstrong. It's a great time to release what no longer serves you and bring things to full completion. This yoga sequence will help you do that.

During this sequence, let your inhales symbolize manifestation and your exhales symbolize releasing anything that no longer serves you. Slowly transition from one pose to the next as if you are moving through water. Focus attention on the sensation of your feet connecting with the earth.
To cultivate lunar energy, practice outside where you can see the moon. If that's not possible, and you are practicing inside without view of the moon, dim the lights and light candles.
This is an All Levels class.

Class
Yoga Video
Available in days
days after you sign up
Your Teacher
Carla Christine is a certified yoga teacher and holistic wellness advocate. After 10+ years working as an electrical engineer, she quit her job to create Yoga Green Book.
She started practicing yoga in 2011 after suffering from debilitating anxiety. Following her first class, she recognized yoga had the ability to aid in self-healing. After year-long training, Carla completed her 200-hour yoga teacher training certification. She considers herself a lifelong yoga student and continues to expand her knowledge in yoga philosophy and asana through regular trainings and workshops.

Her classes create a safe space to foster an inner journey towards healing and empowerment. She designs classes based on students' needs.
Currently, Carla lives in Medellin, Colombia, with her husband and 2 year-old baby girl. She strives to connect and practice with yogis worldwide.
Read the full story of Yoga Green Book here.
This class is not open for sign up.